Orange County LEPC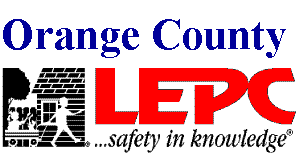 Orange County
Local Emergency Planning Committee
The Orange County Local Emergency Planning Committee (LEPC) is a non-profit organization that serves as a link between citizens, industry and government to enhance Hazardous Material preparedness for communities. LEPC's role is to identify chemical hazards, develop and maintain emergency plans in case of an accidental (and terrorist-related) release of hazardous chemicals, and encourage continuous attention to chemical safety, risk reduction, and accident prevention in the community.
In order to achieve its goal LEPC works along with:
Emergency Management Agencies
First Responders
State and Local Elected Officials
Industries Representatives
Hospital and Public Health Officials
Media Outlets
Community Groups
To join the Orange County LEPC, please contact us.