Public Health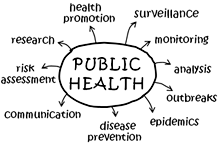 Orange County Public Health provides public health assessment, policy development and assurance activities for the residents of Orange County, Texas. Our aim is to promote a healthy and safe community served through education, service and leadership; to prevent disease, illness and injury; and to serve as professionals dedicated to protecting you through public health service.
Public health is the science of protecting and improving the health of families and communities through promotion of healthy lifestyles, research for disease and injury prevention, detection and control of infectious disease.
Overall, public health is concerned with protecting the health of entire populations. These populations can be as small as a local neighborhood or as big as an entire country or region of the world.
Public health professionals try to prevent problems from happening or recurring through implementing educational programs, recommending policies, and administering services - in contrast to clinical professionals like doctors and nurses, who focus primarily on treating individuals after they become sick or injured. Public health also works to limit health disparities. A large part of public health is promoting healthcare equity, quality and accessibility.
The Centers for Disease Control and Prevention (CDC) is the nation's disease prevention and wellness promotion agency, protecting people's health and safety, providing credible information to enhance health decisions, and improving health through strong partnerships. CDC's work encompasses a wide range of health threats, including infectious and chronic diseases, injuries, birth defects, food and water safety, bioterrorism, environmental hazards, and occupational health and safety. CDC also administers funding for state and local health departments, community-based organizations and academic institutions for a wide array of public health programs and research. Every day, CDC experts work both behind the scenes and on the frontlines to improve people's daily lives and respond to health emergencies. CDC is headquartered in Atlanta and has approximately 14,000 full-time, part-time and contract employees located throughout the United States and in 54 countries.
CDC works with its partners around the word to:
monitor health,
detect and investigate health problems,
conduct research to enhance prevention,
develop and advocate sound public health policies,
implement prevention strategies,
promote healthy behaviors,
foster safe and healthful environments,
and provide leadership and training.
CONTACT US:
Liz Smith
Public Health Emergency Planner
11475 FM 1442
Orange, TX 77630
Phone: (409) 670-4135
Fax: (409) 670-4143
USEFUL LINKS:
Center for Disease Control and Prevention
Texas Department of State Health Services