Run. Hide. Fight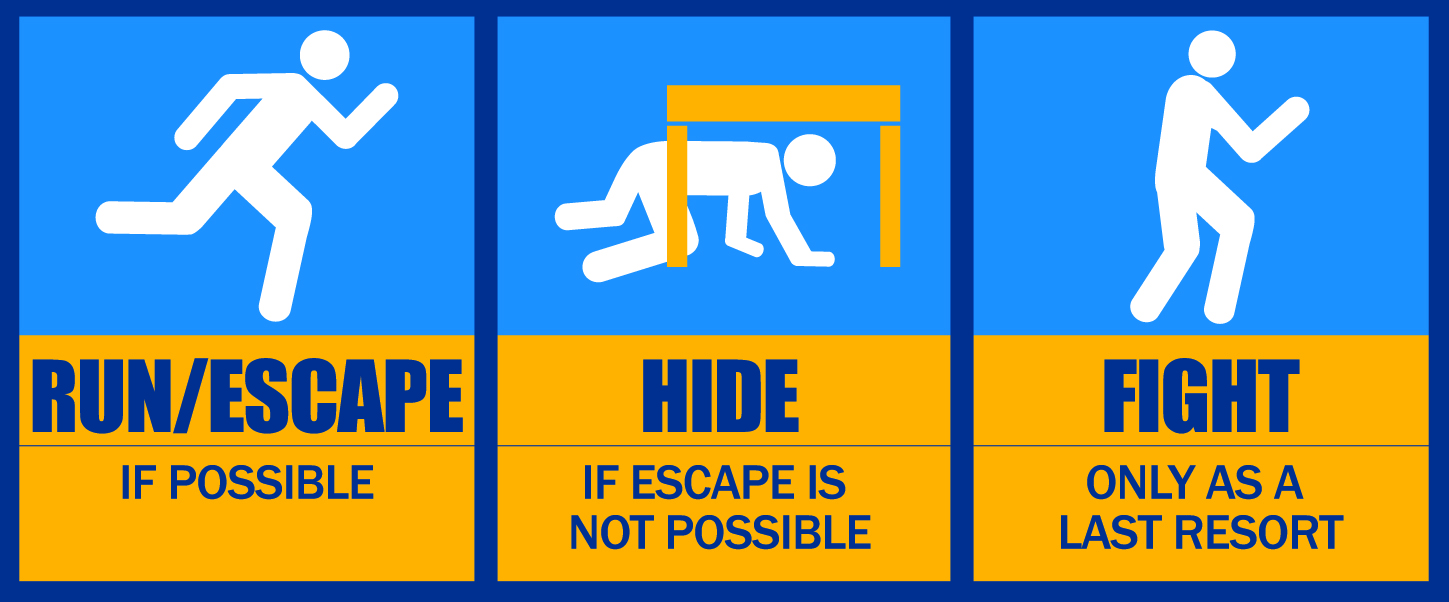 An Active Shooter is an individual actively engaged in killing or attempting to kill people in a confined and populated area: in most cases, active shooters use firearms and there is no pattern or method to their selection of victims.
Active shooter situations are unpredictable and evolve quickly. Typically, the immediate deployment of law enforcement is required to stop the shooting and mitigate harm to victims.
Because active shooter situations are often over within 10 to 15 minutes, before law enforcement arrives on the scene, individuals must be prepared both mentally and physically to deal with an active shooter situation.
How to Respond
1. RUN
If there is an accessible escape path, attempt to evacuate the premises. Evacuate regardless of whether others agree to follow. Call 911 when you are safe.
2. HIDE
If evacuation is not possible, find a place to hide where the active shooter is less likely to find you. When hiding turn out the lights, lock the doors, silence your cell phone, and remain quiet and calm. Dial 911, if possible, to alert police to the active shooter's location.
3. FIGHT
As a last resort, and only when your life is in imminent danger, attempt to disrupt and/or incapacitate the active shooter. Act as aggressively as possible against him/her, throw items and improvise weapons, and yell.
For more information on how to be prepared for an active shooter visit https://www.dhs.gov/active-shooter-preparedness. You can access the U.S. Department of Homeland Security's (DHS) Active Shooter Pocket Card by clicking here.
Citizens are always encouraged to report suspicious behavior. If you see something, say something by dialing 9-1-1 in an emergency.